Acquire, record, and monitor call tracking numbers anywhere in the world
SeoToaster CRM Ultimate Edition helps you aquire phone tracking numbers anywhere in the world, easily display them on your homepage or landing pages.
You can the track, and even record, both inbound and outbound calls, which you will be able to easily listen to in just one click straight from your Lead Timeline.
Once you've opened your SeoSamba free account and logged in, go to Lead Tracking tab where you will see "Buy a phone number anywhere in the world" button.
Click on it and you'll find the following configuration screen where you can search for a phone number with desired options:

You can choose a country, number type (local, toll-free or mobile), search for a number within a specific zip code or matching some particular pattern, then Buy any available phone number you choose by clicking "Buy number $ / Month".

You can then pair 1 or more phone numbers with your CRM install, allowing you to track, log and record calls originating from a variety of places, or marketing channels.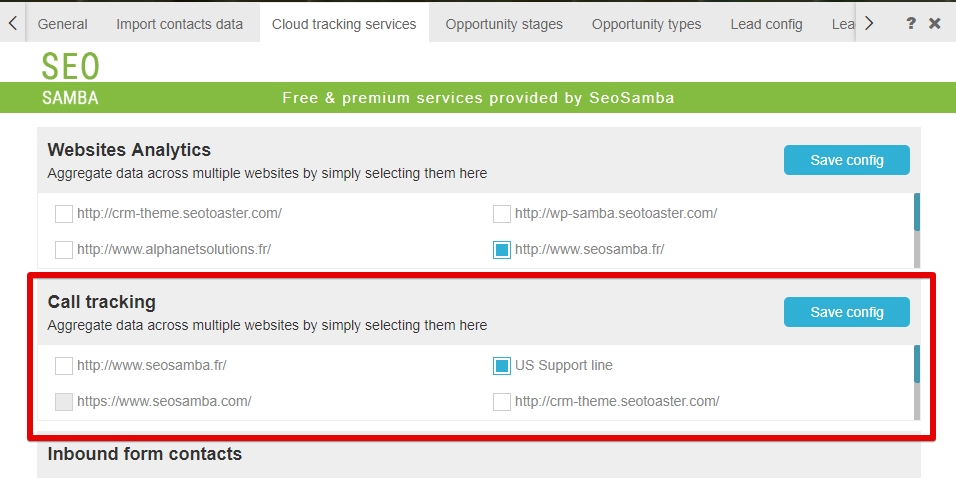 SeoToaster CRM Ultimate Edition Inbound Calls
Your CRM automatically tracks inbound calls, find the appropriate lead record and log that call into the Timeline area. As an option, you can record calls via your SambaSaaS account. In that case, you can also play these recordings straight from your lead detail screen. This feature gives you a comprehensive view of all customer interaction wit your brand. 
Incoming calls from unrecognize phone numbers also create leads record automatically using Caller ID when provided.  

SeoToaster CRM Ultimate Edition Outbound Calls
Your CRM also let you log and record outbound activity. You can place call from your VOIP soft console/phone provider using a SIP address, making it ideal for outbound call campaigns or call center type of activity or any regular telephone.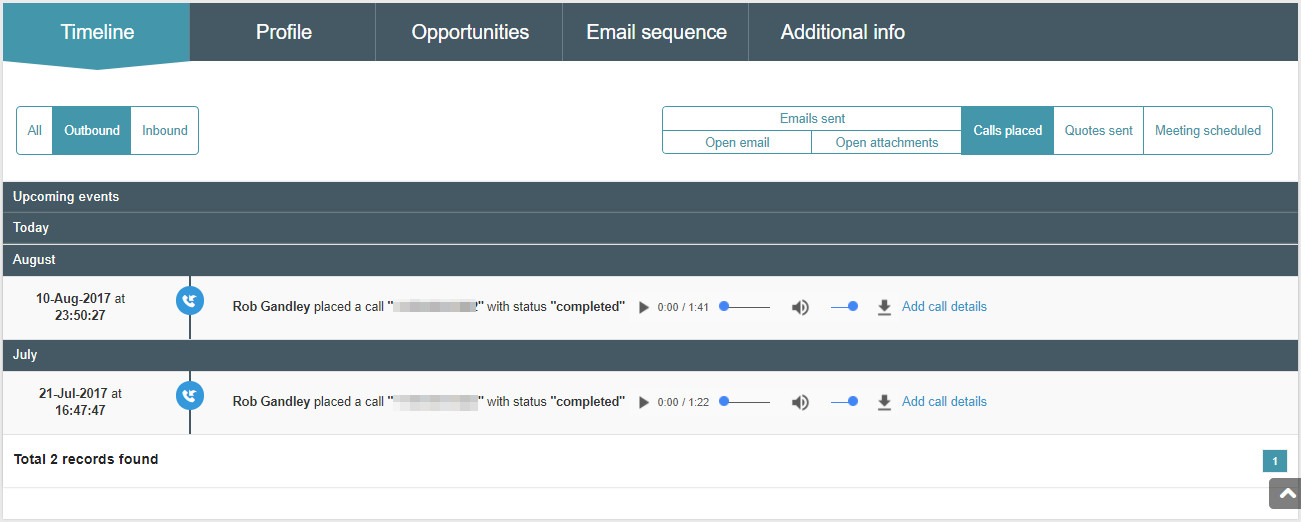 Track marketing campaigns and websites effectiveness with SeoSamba Call Tracking and SeoToaster CRM Ultimate Edition
Great to track calls from lead generating websites but also TV, radio, web ads, and even brochures, SeoSamba's lead tracking solution is available to anyone. You don't even need a website, you just need a web browser to operate it.   
Imagine for a moment having all your inbound sales lead generation activity available in one screen. Regardless of the number of websites you operate, or simultaneous marketing campaigns you run, all data is readily available at your fingertips.
For more information, visit https://www.seosamba.com/lead-tracking-software.html.
More SeoToaster CRM Features