E-commerce Web Store Reports Anyway You Like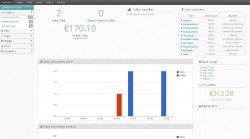 SeoToaster is a top PHP shopping cart that helps you make the right business decisions with  just the right amount of actionable sales reporting.  The robust e-commerce store reporting capabilities provided by the free and open source web store builder includes sales and quotes count, along with the average order amount, as well as sales breakdown by a customer, by product type, brand, tags, and location.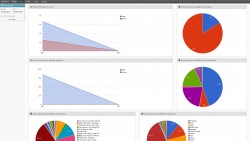 Another great thing about SeoToaster's e-commerce store and sales dashboard is that you can expand, design and build your own reporting themes including actual reports, tables etc, and look & feel. You can also contribute by making your dashboard themes available from the marketplace either for free or a for a fee.  Dashboard designers can submit contributions here. However, when you need a specific report, or wish to offer your sales staff an immersive experience by embedding other applications, or information, it is very easy to do with SeoToaster. Dashboard pages can be edited like any other page on SeoToaster, click, edit, add content, a new product manual, training video, the latest promo deal information, or competitive intelligence, an Iframe to your CRM system..and everyone gets the memo right when they land on their dashboard.   
SeoToaster is free and open source. Feel free to download SeoToaster Ecommerce and try it for yourself. 
Other store dashboard areas: