How To Connect Webmaster Tools To Your SeoToaster Websites
Once you've registered on the SeoSamba marketing hub, and secured your SeoSamba token through your onine account or your SeoToaster control panel's Website ID Card, connecting your SeoToaster powered websites is fast and easy.
With your free SeoSamba account you can create XML sitemaps on the fly, add Google Analytics code automatically, increases Google crawling rate, integrate with Google Optimizer, and much more.
All you need to do is to click on the Google Webmaster Tools icon in your SeoSamba online interface, and you're all set!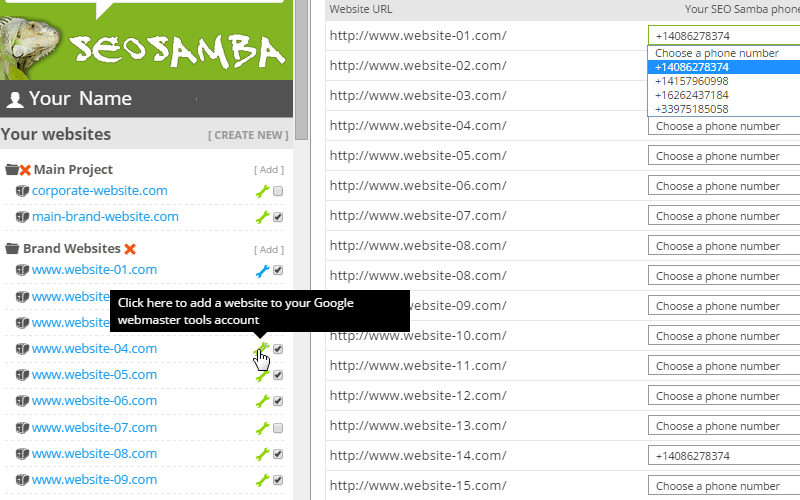 How SeoSamba Integrates Your Website With Google
Single sign-on, log directly into your SeoSamba online marketing plaform with your Google Account.

Automatically creates both web and news XML sitemap and upload them to your Google Webmaster Tools account.

Pulls automatically your websites status into a dashboard along with the date stamp when Google last crawled your sites. This information is also available to agencies across their entire client portfolio.

Add Google Analytics code to your website automatically.

Verify your robots.txt file prior to upload against Google robots.txt analysis tool.

Increases Google crawling rate automatically after each update to your websites.

Point and click, same screen integration with Google Optimizer. Create landing page experiments automatically, and terminate experiment gracefully thanks to our automated routing to your best performing pages.

Builds Google News compliant facility