The Ultimate B2B & Service Business Solution
SeoToaster integrates an advanced web-based quoting and digital proposal system, perfect for managing "complex sales" consumer and B2B - Business to Business - scenarios.

Why pay for a separate quote or proposal software for your business while you can use the built-in SeoToaster Ultimate quote system instead?

In today's B2B website marketing landscape, providing online instant or rapid quotes to your website visitors is vital for online sales.

Especially when dealing with high-value items like luxury products or products requiring a consultative sales approach, having a web quote engine seamlessly integrated into your website operations can make all the difference in achieving exceptional sales conversion rates.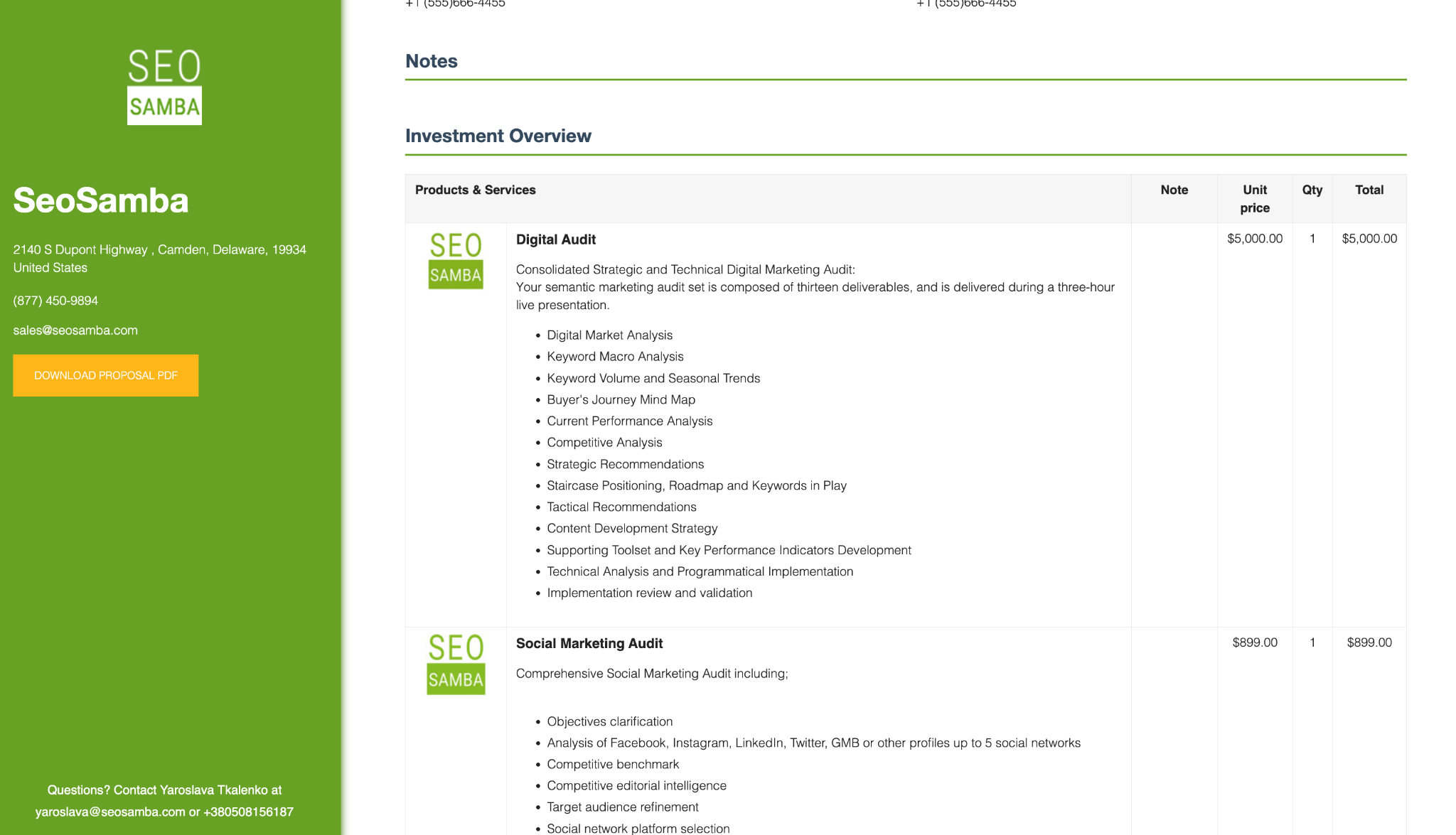 Effortless Web Quotes Design Without Boundaries
SeoToaster's web quote system offers an effortless way for website visitors to request a sales quote from your business or easily place their order over the phone.

With a single checkbox, you can configure whether the quote should appear instantly on the visitor's screen or be linked from a nicely formatted email after your sales associates have had a chance to process the request and create a custom quote.

You can effortlessly configure the quote system as a checkout option from your cart page or as a quick quote option featured on one, many, or all of your product pages.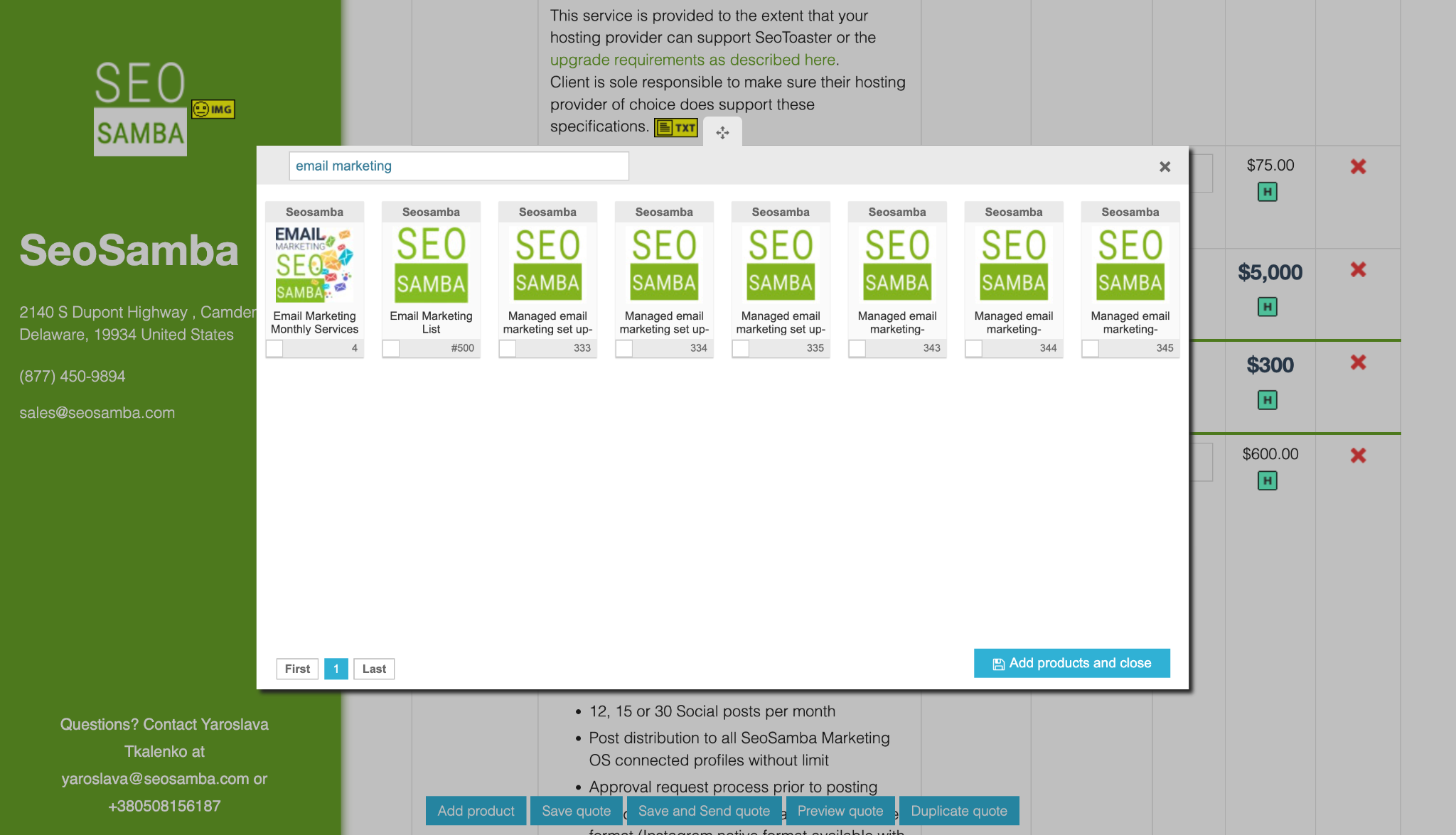 Intelligent & Sales-Friendly
Now, with SeoToaster's enhanced features, quotes can be digitally signed, adding a layer of authenticity and security to your sales process.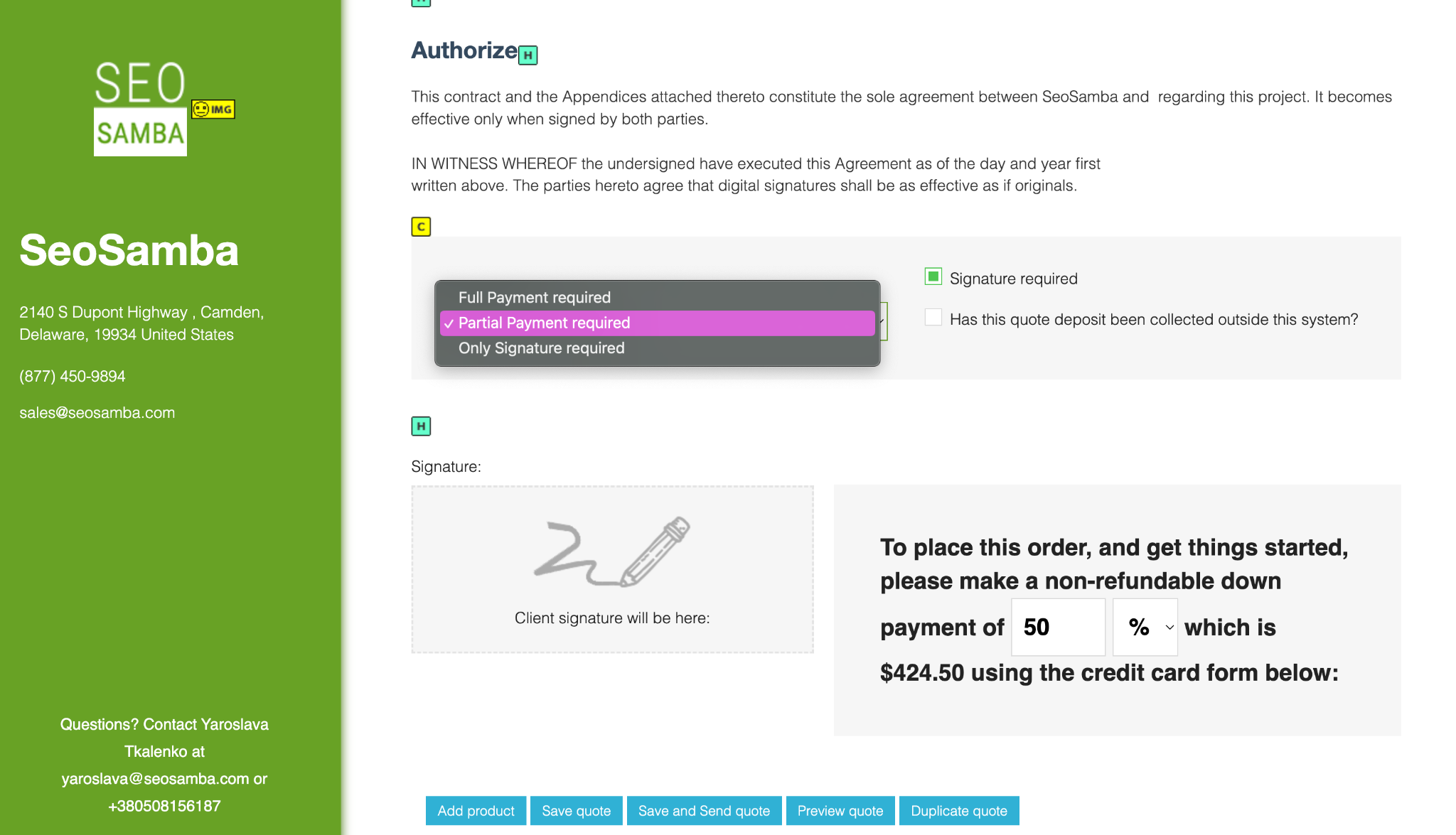 Additionally, we've introduced various payment types to give your customers more flexibility, including partial payments, full payments, and subscription-based payments.

For the ultimate convenience, we've added a "Signature Only" option. This allows you to send a sales proposal to your customer and seamlessly collect their signature online.

Furthermore, the system generates a PDF copy of the quote once it's signed. One copy is sent to your customer, and another is attached to the lead, easily accessible under the "Documents" tab on the lead's detailed screen.

Currently, SeoToaster supports two popular payment gateways—Stripe and Paypal, with an openness to integrate with other payment systems. Additionally, an offline payment scenario is available. You can mark a checkbox if the payment is received in cash or via bank transfer without using the provided payment method in the quote.

You can create quotes directly in CRM on the Quotes screen. On the lead's screen, you can easily attach a quote to an opportunity. Moreover, successful quote template can be duplicated, saving time and effort.

If needed, our dedicated team can add various types of quote templates to your CRM, including Sales Proposals, Online Subscriptions, Partial Payments, and more.

All quote statuses are prominently displayed in the lead's timeline within your website's CRM for easy tracking and management.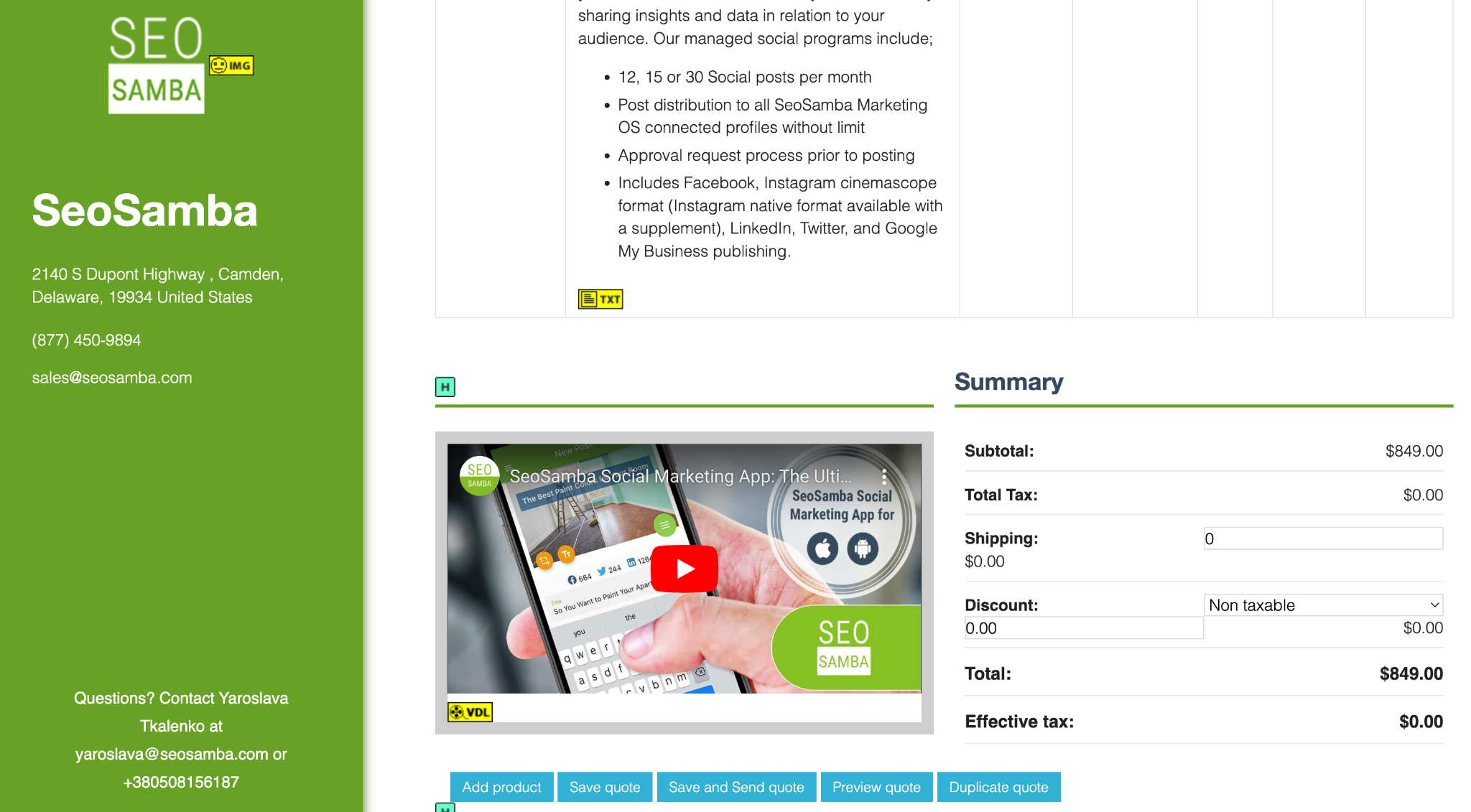 The system continues to automatically update quotes through easily recognizable status transitions from "new" to "sent," then "sold" or "lost," and seamlessly saves sales information to the proper customer account before generating invoices.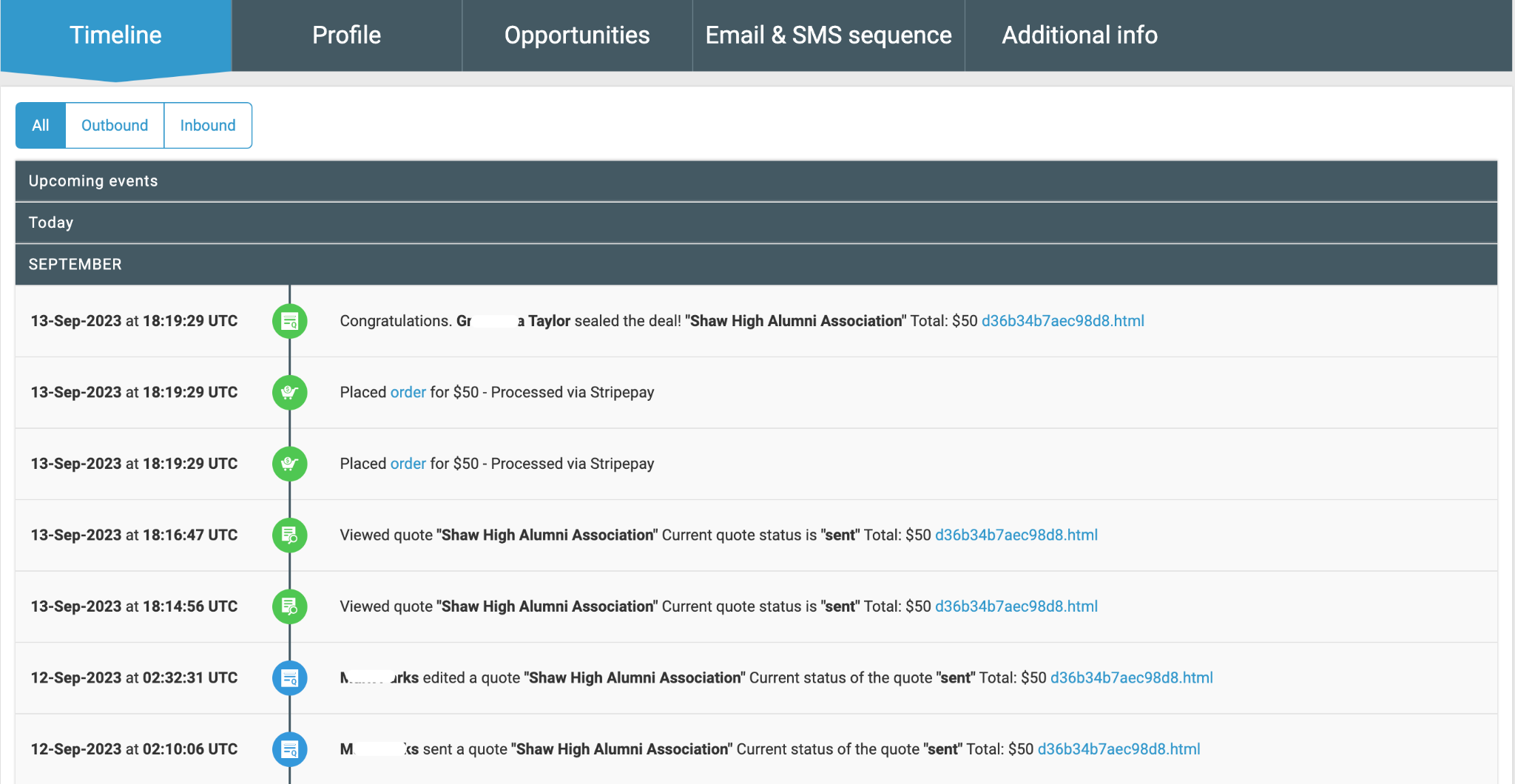 It is easy to view critical information at a glance then view, edit and send quotes to users using pre-defined email templates and messages. Automated emails can also be easily planned for based on triggers from SeoToaster's action emails facility.
Seamless Communication Opportunities
Combination of SeoSamba Quote Engine with a user-friendly chat software like Olark  enables seamless communication between sales representatives and potential customers.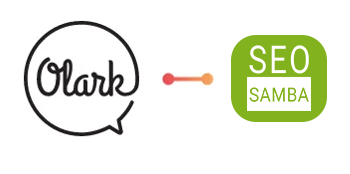 Sales reps receive timely notifications when prospects are viewing their quotes or proposals, facilitating immediate and personalized interactions. This integration optimizes the sales process, enhancing engagement and fostering productive customer interactions at a critical stage of decision-making.
SeoToaster Ecommerce Features