Email Remarketing, Simple & Easy
SeoToaster ships with a powerful, yet easy-to-use action email facility. This communication tool sends emails automatically when a set of conditions are met. This screen can be accessed from the OTHER > Action Emails & SMS menu on your control panel.
Use SeoToaster's built-in email remarketing system to send email sequences to your websites visitors. Go beyond cart abandonment emails, and customize messages based on cart content, and other events.
With SeoToaster you can also create automated emails to request reviews post-purchase, buy or renew insurance or support plans before they expire.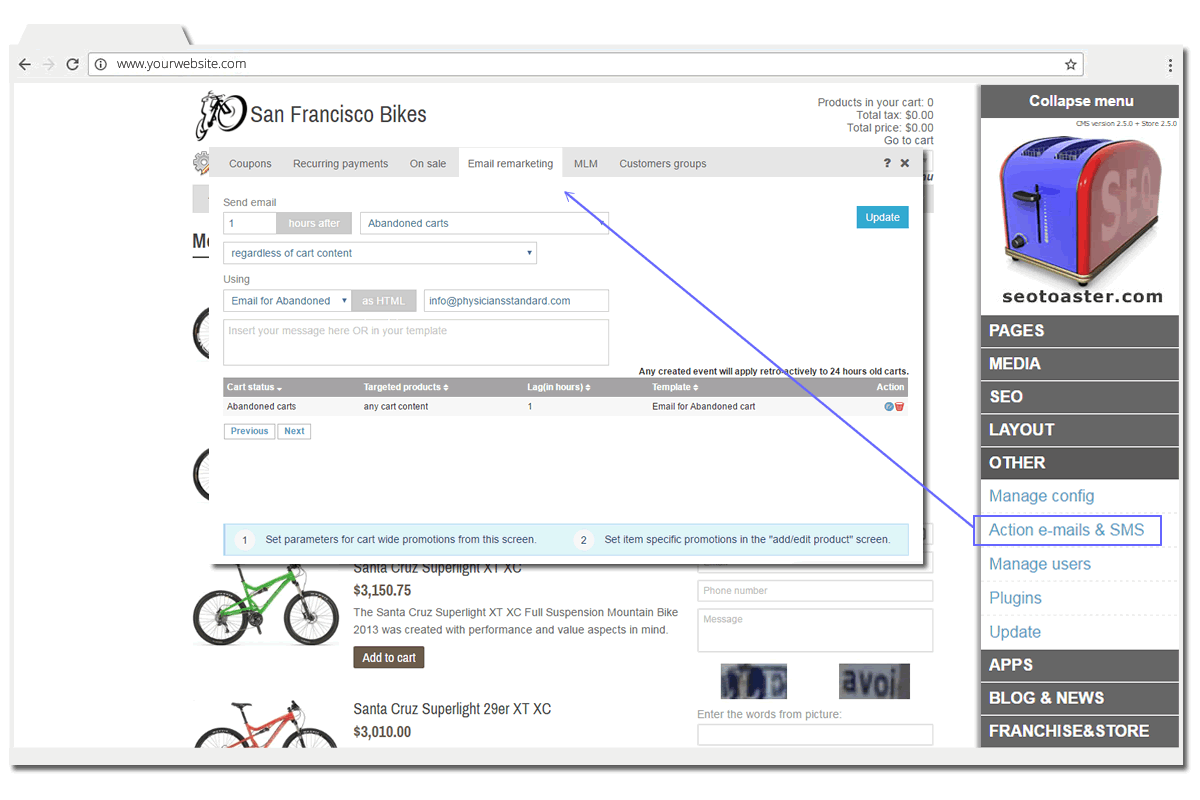 Collect Email Addresses For Your Remarketing Lists
You can collect email addresses from web forms, but also checkout page and dashboard for the Ecommerce edition. All of these get added to your email marketing provider account easily.
To enable this feature, you need a FREE SeoSamba account which you can open directly from your Website ID Card (WID Card), or by registering online.
Once you're registered, retrieve your SeoSamba security token in your WID Card.
Then, in your SeoToaster control panel, clik on APPS > Apps Settings. Click "Email marketing" and from there select an available provider.
Use Action Emails For Automated Email & SMS Customer Support
You can configure have the system send customer services emails automatically based on event triggers, such as when an order is placed, a new member has registered on your site, etc..
Plugins also use that facility to send emails. To use these features go to your SeoToaster control panel, click OTHER > Action Email & Sms – this is where you configure automated SMS too – and add your messages for a given system area and trigger.
Use Email Templates Or Enter Simple Messages
When using the SeoToaster Ecommerce, you can build email marketing nurture campaigns based on quote requests/sent, cart content for orders that have shipped and other events.
To use this feature, go to your SeoToaster control panel, click on OTHER > Action emails & SMS. Click "Email remarketing", add the reference to an HTML template you've built or simply add your message right there.